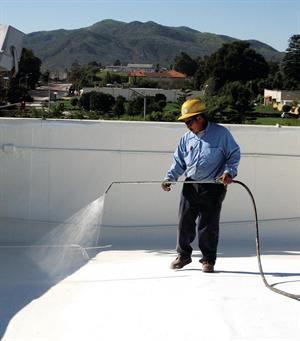 Commercial Buildings Roof Coating Works in Klang Valley & KL
Roof coating works is available by Our roof repair service contractor for any types of buildings in Malaysia, especially in Kuala Lumpur and Klang Valley. Our roof coating works is the process of coating your roof with many layers system in order to extend the lifespan of your own roof. Our cool roof reflective coating will be done by our expert in producing four or more layers of coating system on your roof system. Our school roof coating works will help to protect your current roofing system from fungus, rain leakage, low dirt excess and it can protect your roof structure for a long time. Besides, our roof coating works can also keep your house to become cooler by reflecting the solar heat.
Advanced Roof Coating Works Specialist Contractor in Kuala Lumpur & Klang Valley, Malaysia
Get our professional roof repair contractor in Kuala Lumpur now for free consultancy on roof coating works, cool roof reflective coating and school roof coating works for your school property in Klang Valley, KL and Selangor, Malaysia.