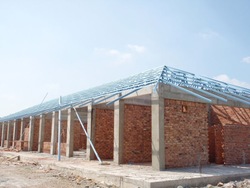 Steel & Wooden Truss Installation Service Contractor in Kuala Lumpur & Klang Valley, Malaysia
We also offer roof trusses system works for residential house, shop lots, restaurant, community hall, warehouse and also factory in Klang Valley, KL and Selangor, Malaysia. There are many different types of trusses system for various buildings such as steel truss system, aluminiuum truss system and also wooden truss system. All of our trusses system is very high durability, sturdy, lightweight and easy for installation. Our wooden truss installation service and other metal truss system will be done by our expert and we will provide the best solution according to your own budget.
High Durability Roofing Trusses System in Klang Valley & KL
Speak to our professional roof repair company in Klang Valley now for expert's advice on roof trusses system works, steel truss system and wooden truss installation service for your house or other buildings in Kuala Lumpur, Klang Valley and Selangor, Malaysia.